The second day of the Burger Boogaloo (head here for day 1) boasted punk pioneers the Damned, several reunited bands (Battleship, Gris Gris, Le Shok…the Rip Offs with the original line-up), and Firestarter's first-ever show in the U.S. We don't know what Marcos and the Total Trash crew have planned for next year but it's definitely worth investing in the early-bird tickets for 2019, which are on sale now for dirt cheap! Here are some of our favorite moments of day 2. Click here for the neat neat neat faces of Burger Boogaloo!
BATTLESHIP
Ash from nearby wildfires fell from the sky as these Oakland malcontents unleashed their demons in the Toxic Paradise amphitheater.

GRIS GRIS
A cloudy sky, majestic redwoods, and kitschy stage decor formed the perfect backdrop for this Oakland four-piece's distinctive brand of psychedelia.

These Atlantans administered primal beats and lo-fi rock'n'roll swagger.

A last-minute replacement for the Dwarves, the lovable masked maniac and his crew charmed the audience with cheeky, lo-fi garage-pop gems that were, according to John Waters, "catchier than herpes."

THE FLAKES
This Bay Area five-piece, featuring ever-energetic Russell Quan on drums, delivered punchy garage punk.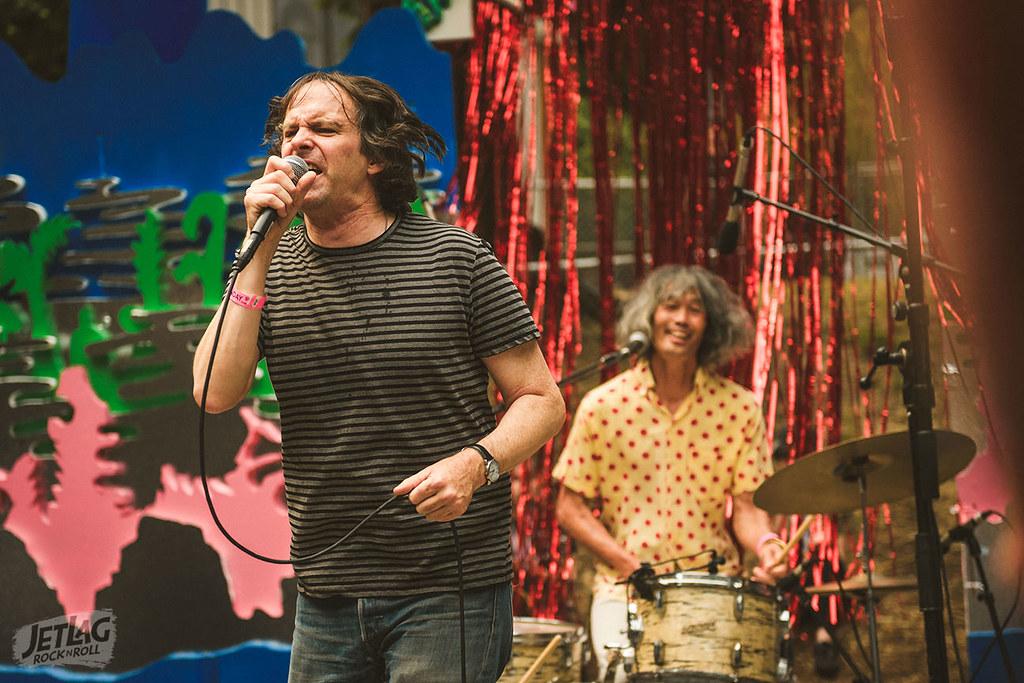 FIRESTARTER
The former Teengenerates thrilled the crowd with their power-pop imports and an encore that included smash hits such as "Dressed in Black" and "Sex Cow."

This inventive New Orleans duo dished up quirky diversions followed by a puppet show.

After transforming the Pleasure Pier into a crime scene, these nylon-loving budget rockers rolled onstage on an SFPD motorcycle and bulldozed each other and the audience with classics such as "Rip Your Heart Out" and "Fed Up."

LE SHOK
Southern Californian electropunks brutalized the Toxic Paradise before smashing all of their guitars (which we missed, alas).

These Roman rockers slayed (slade?) with their hand-clappin' stompers.

THE DAMNED
Dave Vanian, Captain Sensible, and company waited for the blackout, jammed out on "Neat Neat Neat," and smashed it up, ending the night with a tribute to Steve Soto (of the Adolescents, Agent Orange), who had passed away four nights earlier.